About Steve Hausmann: PGA Golf Pro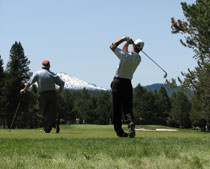 Steve is an accomplished competitive golfer. He has been a member of the Professional Golfers' Association (PGA) of America for 18 years. He has played many roles in the golf industry, from tournament player to head golf professional. His real passion is teaching and helping golfers enjoy the game of golf. He founded Hausmann Golf to realize his goal of working full time with golfers of all levels of ability.
PGA Playing Accomplishments:
2003 Gateway PGA Player of the Year
2004 Winner of the Southern Region PGA Club Professional Championship in Taccoa, Georgia
Qualified and Played in 9 National PGA Club Professional Championships
Top 10 in Gateway Section PGA Point List Consistently
1997 Winner of Gateway PGA Shootout
2003 and 2008 Winner of Gateway PGA Section Championship
2008 Winner of Gateway PGA PNC Qualifier
Winner of over 30 Gateway PGA Tournaments
PGA Experience:
Played the North Florida and Gary Player Mini Tours in Florida in 1994 and 1995.
Coached the University of Missouri Men's Golf Team in 1998 through 2000. Lead the team to a NCAA Division II National Tournament in 1999. Continues to work with many high school and college players.
Spent six years as the Teaching Professional for Algonquin Golf Club, teaching over 1000 lessons per year to golfers of all ages and abilities.
Spent nine years as Head Golf Professional of Algonquin Golf Club, still maintaining a robust teaching schedule and directing an active junior golf program for more than 100 young golfers.

Personal Facts about Steve Hausmann:
Lifelong resident of St. Louis metropolitan area before moving to Wichita in May of 2011.
1987 graduate of Vianney High School.
1991 graduate of Southern Illinois University at Edwardsville where he attended on a soccer scholarship and was a "walk on" to the golf team. Steve played in the 1990 NCAA Division II National Golf Championship.
Member of the Wichita Chamber of Commerce.
Now please remember, you don't need a golf lesson if your game consistently exceeds your expectations. If after 18 holes of golf, you enter the 19th hole saying that this is a really easy game, don't waste your money on golf lessons!!! The best use of your money is a few more golf clubs to brag about.
Sign up for newsletter,
promotions, or special offers
Extensive use of Video Analysis is Key
Steve uses a video camera during all lessons because often it is difficult for a golfer to "feel" the mechanics in their own swing that affect ball striking and ball flight. This tool gives the golfer immediate feedback and visual confirmation about swing technique. After the lesson, Steve will email the golfer his/her lesson video, and will include pointers and areas of emphasis so that the student has a lasting tool to use during independent practice.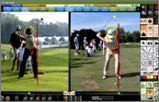 The video system allows for frame by frame advancement of the student's swing, as well as side-by-side comparison to professional players so that the student can visualize exact desired changes in the golf swing. After the lesson, Steve will provide a CD of the golfer's lesson video, and will include pointers and areas of emphasis so that the student has a lasting tool to use during independent practice."
Location for Lessons

Willowbend Golf Club Directions to Willowbend Golf Club: From Hwy 96 head north on N. Rock Rd 1.1 miles to E. Mulberry St just north of E. 37th St. Turn right onto E. Mulberry St and turn right directly into the parking lot of Willowbend Golf Club.